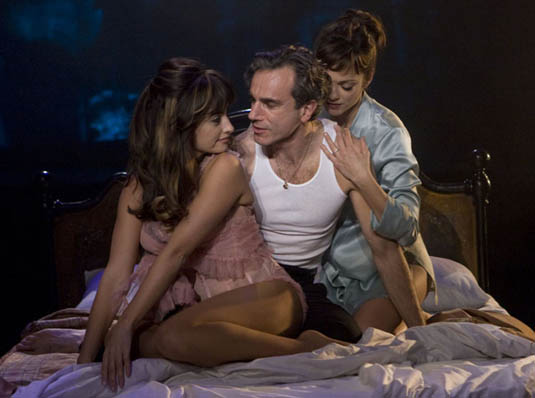 The second and fantastic trailer for Rob Marshall's new musical "Nine," which features Kate Hudson performing "Cinema Italiano," has been released. Check it out below and enjoy.
"Nine" tells the story of Guido Contini (Daniel Day-Lewis), a world famous film director as he confronts an epic mid-life crisis with both creative and personal problems. He must balance the many women of his life, including his wife Luisa (Marion Cotillard), his sexy mistress Carla (Penelope Cruz), his film star muse Claudia Jenssen (Nicole Kidman), his confidant and costume designer Lilli (Judi Dench), an American fashion journalist Stephanie (Kate Hudson), the girl from his youth Saraghina (Stacy Ferguson – Fergie) and his mother (Sophia Loren).
Marshall's musical is based on the "8 1/2" movie written by Federico Fellini and Ennio Flaiano. The screenplay for "Nine" was written by late Anthony Minghella and Michael Tolkin.
The original 1982 Broadway production of "Nine," nominated for twelve Tony Awards and winning five, including Best Musical, was directed by Tommy Tune.
The 2003 Broadway revival of "Nine" received eight Tony Award nominations and won two, including Best Revival of a Musical.
Both, the Broadway musical and the movie are adaptation of the book written by Arthur L. Kopit.
The movie which also stars Ricky Tognazzi, Giuseppe Cederna, Giuseppe Spitaleri as young Guido, Elio Germano, Roberto Nobile, Andrea Di Stefano and Remo Remotti is scheduled to hit theaters on December 25, 2009.