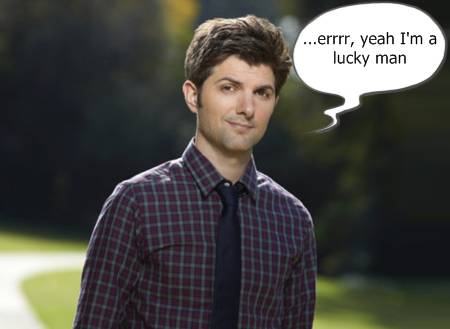 Prior to his appointment as Assistant City Manager on the NBC comedy Parks and Recreation, Adam Scott already has had grabbed people's attention with roles in High Crimes, Torque and The Aviator, and easily turned himself into a viable action hero in last summer's Piranha 3D.
He has just seized two roles in two upcoming projects, My Mother's Curse and See Girl Run.
My Mother's Curse is based on Seth Rogen's character, an inventor who plans to take his mother (Barbra Streisand) on a road trip to try to market and sell his latest invention. He also has a learned motive to rejoin her with a long-lost love. It isn't known with certainty what role Scott will play. Colin Hanks and Yvonne Strahovski are also starring. Anne Fletcher is helming My Mother's Curse from a script by Dan Fogelman.
See Girl Run comes from a writer and director Nate Meyer and follows a woman who looks back nostalgically on her past love life and thinks about how it might have been. Adam Scott will portray a local hero who stayed in his hometown after high school to become an artist and illustrator, trying to win the heart of his dream girl. Jesse Sweet and Derrick Tseng are producing.
In brief, there is no set date for a production schedule except My Mother's Curse" is currently filming.
My Mother's Curse hit theaters starting March 30th, 2012. Indie flick See Girl Run hit theaters in 2012 and stars William Sadler, Adam Scott, Josh Hamilton, Jeremy Strong, Aubrey Dollar, Stephanie Andujar, Larry Pine, Marylouise Burke. This pic is directed by Nate Meyer.
Asked was comedy always his destination, Scott answered:
You know, in a way, it kind of found me. I always thought I'd be a serious actor – everyone watches Raging Bull in high school and thinks that's what you're going to do. But I got a small part in Knocked Up and realized how fun improv was. It's really challenging and exciting – it's like walking on a tightrope and I never looked back. Not only is it fun, but I think I might be better at comedy. Plus, the people are really cool. There is a comedy community that you don't get with dramatic acting. It's not like there's a group of actors who get together in their spare time and do serious stuff together."
Hope the producers and directors will give a really huge break on Scott, nominated for a 2009 Emmy Award for Best Actor in a Comedy Series.
Check him out in the Parks and Recreation in IMAX 3D trailer. Lol!
[youtube]http://www.youtube.com/watch?v=9IgUYdYT0lk[/youtube]
Parks and Recreation in IMAX 3D