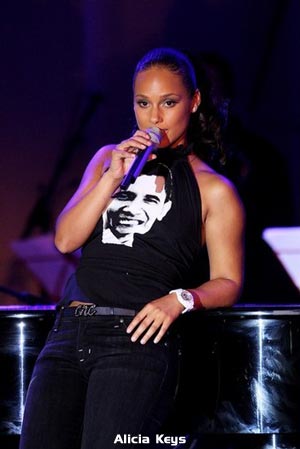 Another day and another speculation concerning who's got the theme tune gig for the up and coming "Quantum Of Solace".
Alicia Keys is reportedly in final negotiations to lend her voice to the title track of the new Bond movie,  which stars British actor Daniel Craig as the suave secret agent, E! Online said.
Alicia is not the first singer to be linked to the song.
Beyonce Knowles, Leona Lewis, Amy Winehouse, Duffy and Annie Lennox have all reportedly been in talks with Bond bosses to sing the title track of the 22nd Bond film.
Although no official announcement has been made, a source told the entertainment news Web site, "I believe Alicia is the winner."
Nothing's confirmed yet but she'd sure be a safer bet than the unpredictable bee-hived bombsite that is Amy Winehouse. Despite that statement and the fact that Winehouse doesn't seem to be reliable enough to do anything much these day's aside cramming class-A narcotics into the nearest vein, the girls voice would do a fine job of evoking those halcyon Bond day's when a suitable diva would be recruited to bellow a memorable tune into the very core of your soul. Memorable certainly isn't a tag I'd attribute to any recent Bond film would you?
"Quantum of Solace" starring Daniel Craig, Judi Dench, Olga Kulylenko and Gemma Arterton will hit the theathers on November, 7th 2008.