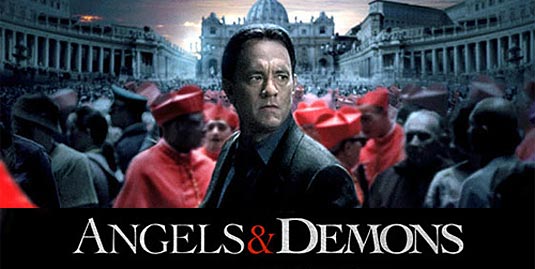 Colombia Pictures has officially released the poster for the highly anticipated Ron Howard's "Angels & Demons."
In the prequel, Langdon discovers evidence of the resurgence of an ancient secret brotherhood known as the Illuminati – the most powerful underground organization in history – he also faces a deadly threat to the existence of the secret organization's most despised enemy: the Catholic Church. When Langdon learns that the clock is ticking on an unstoppable Illuminati time bomb, he jets to Rome, where he joins forces with Vittoria Vetra, a beautiful and enigmatic Italian scientist. Embarking on a nonstop, action-packed hunt through sealed crypts, dangerous catacombs, deserted cathedrals, and even to the heart of the most secretive vault on earth, Langdon and Vetra will follow a 400-year-old trail of ancient symbols that mark the Vatican's only hope for survival.
The Vatican is considering calling for an official boycott of "Angels & Demons," the upcoming follow-up to The Da Vinci Code which the Church also boycotted.
The Vatican's official newspaper mentioned the other day that the Church cannot approve of such a "problematic film."
The film stars again Tom Hanks and Ayelet Zurer, Ewan McGregor, Pierfrancesco Favino, August Fredrik, Stellan Skarsgård.
"Angels & Demons" is scheduled to hit theaters on May 15th.