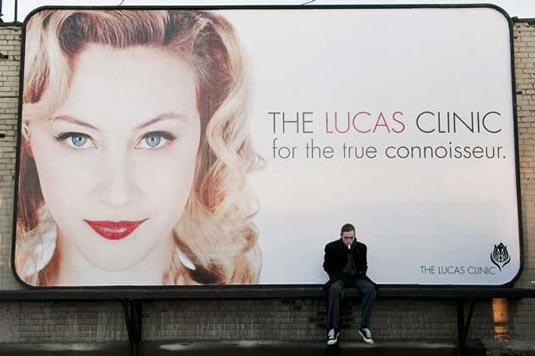 "Have you started bleeding yet? From your mouth…"
Brandon Cronenberg's film Antiviral certainly carries the family's DNA. The first trailer for this sci-fi horror film starts with a slick advertisement for a clinic that sells the bodily fluids of celebrities — and then it gets really strange.
Written and directed by Cronenberg son, the film doesn't stint on the medical horrors – there are plenty of rubber gloves, needles, bandages and blood in the trailer alone, so if you can't stand to look at needles piercing skin, I suggest you skip this one.. Take a look at this weird (at best) trailer below:
The film follows Syd March, a man who works for a company that harvests diseases from celebrities and then injects them into paying clients. After becoming infected with the virus that killed superstar Hannah Geist, Syd must unravel the mystery surrounding her death to save his own life.
Honestly, the way this 'celebrity obsession' catches on some people, I wouldn't be too much surprised to see something like this in reality… thanks, nolifers. As bizzare as it may be, I'm still pretty much curious enough to see the film – bizzare I can handle pretty good, as long as it stays on screen – where its place should be.
Antiviral, which will have its North American debut at the Toronto International Film Festival next month, is the director's first feature. The bizarre subject matter probably isn't too surprising, considering who his father is – body-horror pioneer David Cronenberg.
The film stars Caleb Landry Jones, Sarah Gadon, Douglas Smith and Malcolm McDowell. Still no exact release date, so stay tuned!