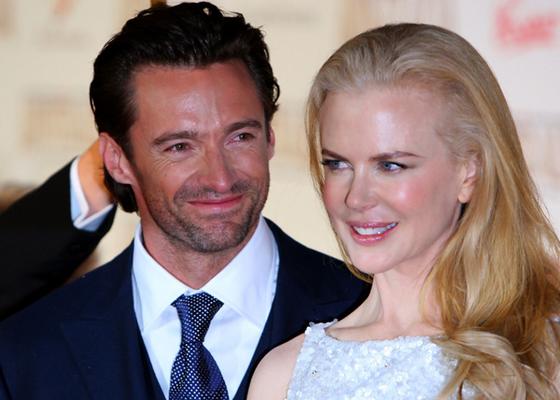 Some early reviews have criticised the length of the "Australia." At the media conference, Baz Luhrmann said he didn't expect everyone to like it but was hoping it would become a classic.
"It is between the film and the audience," he said of the reviews at the press conference, describing the film as an epic in the style of 'Out of Africa' or 'Gone with the Wind.' I wanted to make a film that everyone could go and see."
Nicole Kidman said the film's release should be reason for the whole country to celebrate: "This is a celebration for me and hopefully for this country, she said, It's not meant to be the second coming, but it is meant to be let's have fun and enjoy it."
Of her famed kissing scene with Jackman, Kidman joked: "Obviously we were in character, but it was good to go to work."
Kidman said Australia might be her final film as she concentrates on motherhood: "I'm in a place in my life where I have had some great opportunities. I may just choose to have some more children. I have no idea what is in my future, but I'm very at peace with where I want to be. There are many things I want to do besides act."
Hugh Jackman called his character the greatest role he's ever had. He revealed his eight-year-old son Oscar also had a small part in Australia: "He did four days' work and he decided it was so boring he never wanted to do it again."
Earlier this week we posted the first "Australia" review. Today you can read what the critics are saying about Baz Luhrmann's new movie.
"Baz Luhrmann's long-awaited, and over-budget epic Australia manages, against the odds, to avoid turning into one big sunburnt stereotype about Godzone country. Instead, in what turns out to be a multi-layered story it describes an Australia of the 1940s that is at once compellingly, beautiful and breathtakingly cruel." (Anne Barrowlcough, The Times online) full story
"Baz Luhrmann has delivered a shamelessly melodramatic, often eccentric spectacle with true-blue blockbuster potential. The most expensive Australian film ever made is rousing and passionate.
Despite some cringe-making Harlequin Romance moments between homegrown Hollywood stars Nicole Kidman and Hugh Jackman, the 1940s-set Australia defies all but the most cynical not to get carried away by the force of its grandiose imagery and storytelling." (Megan Lehmann, The Hollywood Reporter) full story
"The film is not without flaws, it's not the masterpiece that we were hoping for, but I think you could say that it's a very good film in many ways. While it will be very popular with many people I think there's a slight air of disappointment after it all."
"Despite its flaws – and it certainly has flaws – I think Australia is an impressive and important film, and if I were to give it a star rating I would give it three-and-a-half out of five." (David Stratton, The Australian) full story
"As you watch, memories of other movie moments flicker into view. The film's orange skies conjure up Gone With The Wind. Yet Nicole Kidman's transplanted English aristocrat, Lady Sarah Ashley, looks to be claiming kinship with Meryl Streep's Karen Blixen in Out Of Africa."
"A big-hearted melodrama, it takes a series of fascinating risks, some of which come off. But it's no super-movie." (Sandra Hall, Sydney Morning Herald) full story
"While it's unlikely to surpass Australian classics such as Gallipoli, Muriel's Wedding or Newsfront on all-time favourite local lists, it's a homegrown movie that deserves to be seen (not something that can be said for many recent Australian productions)." (Des Partridge, The Courier-Mail) full story
"Luhrmann has given himself a huge challenge with an overload of themes, styles, events and characters. He holds it together and delivers a huge entertainment with moments of greatness. It's corny, I know, it's also a film that has the looks as big as it's title." (Stan James, The Adelaide Advertiser) full story
"If only Baz had made the damn thing shorter by at least half an hour." (Jim Schembri, Canberra Time) full story