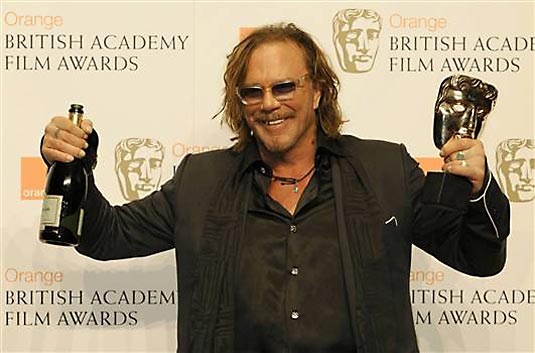 "Slumdog Millionaire" from British director Danny Boyle won leading seven prizes at the British Academy Film Awards including best film and director honors at London's Royal Opera House. "Slumdog" also won prizes for best original screenplay, music, cinematography, editing and sound. "Slumdog Millionaire" now bounds into the Kodak Theater for the Academy Awards boosted by major wins at the DGA, PGA, SAG, WGA and Golden Globes.
The movie went into the race with David Fincher's "The Curious Case of Benjamin Button," which won three.
Mickey Rourke poses after winning the award for Leading Actor for "The Wrestler" during the 2009 BAFTA (British Academy of Film and Television Arts) awards ceremony at the Royal Opera House in London February 8, 2009.
Actor honors went to Mickey Rourke, for role in "The Wrestler," who thanked Darren Aronofsky for the second chance "after fucking up my career for 15 years" in his speech. "It's such a pleasure to be back here, out of the darkness," said Rourke. Kate Winslet won BAFTA gold for role in "The Reader."
Heath Ledger won a posthumous supporting actor award for "The Dark Knight." Penelope Cruz ("Vicky Cristina Barcelona") triumphed in the supporting actress section.
The original screenplay award was presented to Martin McDonagh for "In Bruges."
The Carl Foreman award for special achievement by a British director, writer or producer went to Steve McQueen for "Hunger."
In other awards, "Wall-E" won the animated film BAFTA, period drama "The Duchess" won costume design and the BAFTA for outstanding British film this year went to documentary "Man on Wire." The trophy for best non-English-language movie went to French drama "I've Loved You So Long."
There were no wins for multi-nominated "Changeling" (eight), "Frost/Nixon" (six), "Milk" (four) and "Revolutionary Road" (four).
BEST FILM
"Slumdog Millionaire" – Christian Colson
OUTSTANDING BRITISH FILM
"Man On Wire" – Simon Chinn / James Marsh
LEADING ACTOR
Mickey Rourke – "The Wrestler"
LEADING ACTRESS
Kate Winslet – "The Reader"
SUPPORTING ACTOR
Heath Ledger – "The Dark Knight"
SUPPORTING ACTRESS
Penélope Cruz – "Vicky Cristina Barcelona"
DIRECTOR
"Slumdog Millionaire" – Danny Boyle
ORIGINAL SCREENPLAY
"In Bruges" – Martin Mcdonagh
ADAPTED SCREENPLAY
"Slumdog Millionaire" – Simon Beaufoy
FILM NOT IN THE ENGLISH LANGUAGE
"I've Loved You So Long" – Yves Marmion / Philippe Claudel
THE CARL FOREMAN AWARD FOR SPECIAL ACHIEVEMENT BY A BRITISH DIRECTOR, WRITER OR PRODUCER FOR THEIR FIRST FEATURE FILM
Steve Mcqueen, director/writer – "Hunger"
ANIMATED FILM
"Wall-E" – Andrew Stanton
MUSIC
"Slumdog Millionaire" – A. R. Rahman
CINEMATOGRAPHY
"Slumdog Millionaire" – Anthony Dod Mantle
EDITING
"Slumdog Millionaire" – Chris Dickens
PRODUCTION DESIGN
"The Curious Case of Benjamin Button" – Donald Graham Burt / Victor J. Zolfo
COSTUME DESIGN
"The Duchess" – Michael O'connor
MAKE UP & HAIR
"The Curious Case of Benjamin Button" – Jean Black / Colleen Callaghan
SOUND
"Slumdog Millionaire" – Glenn Freemantle / Resul Pookutty / Richard Pryke / Tom Sayers / Ian Tapp
SPECIAL VISUAL EFFECTS
"The Curious Case of Benjamin Button" – Eric Barba / Craig Barron / Nathan Mcguinness / Edson Williams
SHORT ANIMATION
"Wallace And Gromit: A Matter of Loaf And Death" – Steve Pegram / Nick Park / Bob Baker
SHORT FILM
"September" – Stewart Le Maréchal / Esther May Campbell
ACADEMY FELLOWSHIP
Terry Gilliam
OUTSTANDING BRITISH CONTRIBUTION TO CINEMA
Pinewood Studios / Shepperton Studios