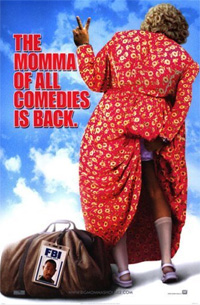 Are you guys ready for the third installment of the Big Momma's House franchise?
If you are we're more than happy to inform you that Faizon Love, Emily Rios, Portia Doubleday and Michelle Ang have signed to co-star in 20th Century Fox's Big Mommas: Like Father, Like Son.
They join Martin Lawrence, Brandon T. Jackson and Jessica Lucas, and that's quite interesting cast.
Check out the official synopsis: FBI Agent Malcolm Turner and his 17-year-old nephew Trent go undercover at an all-girls' school for the arts, after Trent witnesses a murder. They pose, respectively, as Big Momma and Charmaine, in order to find evidence incriminating the murderer before he finds them.
So, we already know Lawrence will repeat his Big Momma role, T. Jackson will play Charmaine, while Rios, Doubleday (recently co – starred in Youth in Revolt) and Ang (that will appear in the Jodie Foster directed drama The Beaver) will play students at the school who befriend Jackson's character.
Big Momma's House 2 director John Whitesell also is helming the new project, from a script by Matthew Fogel and Randi Mayem Singer.
David T. Friendly again is producing via his Friendly Films. The film begins shooting this month in Atlanta at the private, all-girls Agnes Scott College.
So, this already sounds like big Hollywood project, and we can only hope that it will be as successful as previous parts, especially when we have information that says – the franchise has grossed more than $310 million worldwide!
So, let the Big Momma's adventures begin!