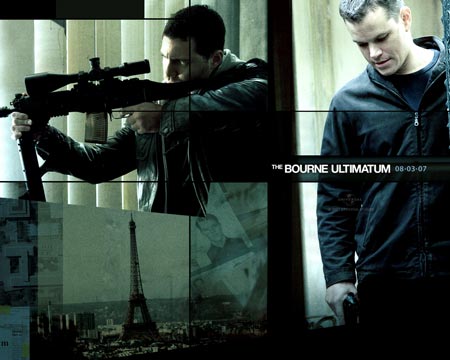 Universal is moving forward with a fourth Jason Bourne movie, tentatively titled "Bourne 4". The Bourne Ultimatum writer George Nolfi has been hired to pen the sequel. Nolfi's other credits include The Sentinel, Ocean's Twelve and Timeline.
Director Paul Greengrass and star Matt Damon are attached to the new film. The film will be produced by Frank Marshall and executive produced by Jeffrey Weiner and Henry Morrison.
This Bourne movie may still however, end up being significantly different from the others. The first three movies were loosely based on a series of books by Robert Ludlum. There is a fourth book, but it wasn't written by Ludlum and back in June, producer Frank Marshall indicated they'd ignore the fourth book and go their own direction with the series. At the time, he hinted that Bourne may be skipping out on his European locales for a trip to South America, and if previous talk turns out to be true, they should start shooting it this coming summer.
The first three films have brought in a combined total of $524 million at the domestic box-office.