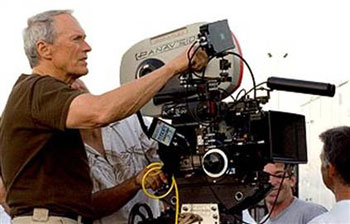 Clint Eastwood has signed to direct and star in Gran Torino for Warner Bros. and Village Roadshow Pictures. The film is scheduled for a December release.Variety reports the film will be the first time Eastwood has appeared on screen since 2004's Million Dollar Baby. The details of the film and Eastwood's role are being kept quiet by the studio.
The film is produced by Rob Lorenz (Eastwood's partner at Malpaso Prods.) and Billy Gerber. Jenette Kahn and Adam Richman are handling executive producing duties on the project.
The release dates will give fans a double dose of Eastwood. The director's Changeling (with star Angelina Jolie) is expected on Nov. 7th from Universal and Imagine. Eastwood is also lined up to direct the Nelson Mandela film The Human Factor for Warner.
The project is currently in development.