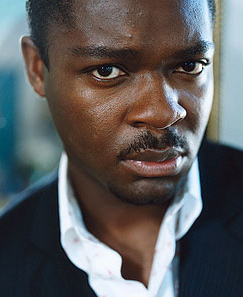 Rise of the Apes or Caesar: Rise of the Apes (probably a new title of the movie) update!
David Oyelowo, probably best known from titles like The Last King of Scotland, As You Like It, Who Do You Love and Derailed has been offered the role of Steve Jacobs in the upcoming Rupert Wyatt's Planet of the Apes prequel.
Tom Felton (Draco Malfoy from the Harry Potter series) will also join the cast.
The actors will join cast that already includes James Franco (as a scientist who becomes a crucial figure in the war between humans and apes), Frieda Pinto (as a primatologist who helps Franco), John Lithgow (Franco's father), Andy Serkis (as Caesar, the chimp who leads the simian revolt) and previously reported Brian Cox (as the villainous owner of a primate sanctuary). Felton will play the son of Cox's character.
Movie is "an origin story in the truest sense of the term. Set in present day San Francisco, the film is a reality-based cautionary tale, a science fiction/science fact blend, where man's own experiments with genetic engineering lead to the development of intelligence in apes and the onset of a war for supremacy."
It will follow "a scientist who is working on a cure for Alzheimer's and testing it on apes. The potential cure causes the test subject 'Caesar' to evolve rapidly and scientist must protect him from the doctors who want to harm the animal. Little does he know that trying to find a cure of Alzheimer's and protecting a defenseless ape will lead to the destruction of human civilization."
Rise of the Apes movie based on the screenplay written by Amanda Silver and Rick Jaffa will hit theaters on June 24, 2011.