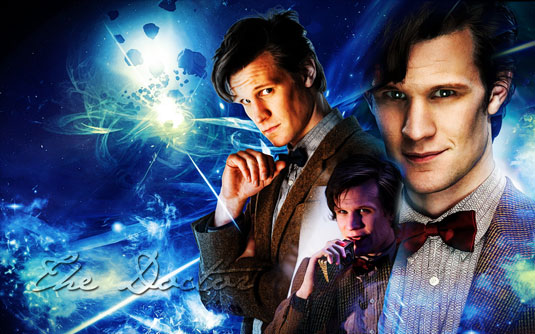 A brand new poster arrived for the seventh episode of the current Doctor Who series, The Bells Of St John. What with all the 50th anniversary and An Adventure In Space And Time talk around right now, it's almost easy to forget that in under a month, eight brand new episodes of Doctor Who are starting on the BBC.
This 'shattered' first poster for episode seven, which goes by the now-confirmed title The Bells of St John, is here to remind us.Have a look after the jump.
As you can see, it features Matt Smith as the Doctor, Jenna-Louise Coleman as his new companion Clara Oswin, an awesome-looking motorbike and plenty of broken glass. Take a look in the reflection in the shards, and you'll spot more than a couple of monster clues, too…
The Bells of St John, which kicks off the new series' run on Saturday, March 30th, 2013, is written by Steven Moffat and directed by Colm McCarthy. It's being marketed as a "modern day urban thriller" set against the backdrop of London's new and old iconic landmarks, The Shard and Westminster Bridge (one of which, judging by this poster, might not make it out of the episode intact).
The BBC has also confirmed which foes the Doctor will be up against in the episode, so be warned of spoilers if you advance further.
*
*
*
Still with us? Good. They're a new race known as the Spoonheads (nickname or genus, we're yet to find out), who are battling the Doctor as he discovers "something sinister lurking in the Wi-Fi".
Here's what Steven Moffat said on what else is set to arrive in the new episodes:
"It's the 50th year of Doctor Who and look what's going on! We're up in the sky and under the sea! We're running round the rings of an alien world and then a haunted house. There's new Cybermen, new Ice Warriors and a never before attempted journey to the centre of the TARDIS. And in the finale, the Doctor's greatest secret will at last be revealed! If this wasn't already our most exciting year it would be anyway!"
Follow us for updates as they come!
Source: BBC