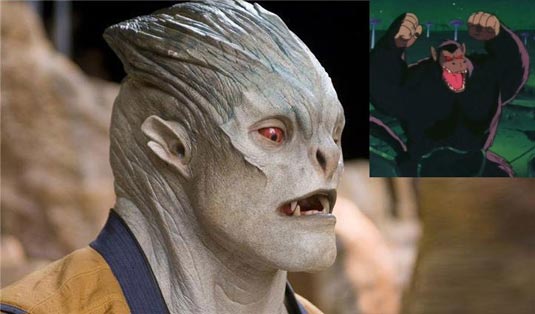 In the picture which can be seen via ComicBookMovie and DBtheMovie, it is exposed that Goku might have been transformed into one of his "Super Saiyan" forms, in which he turns to be what seems like a giant ape.
Several "stages" of growth transform Goku from power to power and sometimes turns him into a giant ape – "Super Saiyan Ape" when conditions are right. Anyone that knows what the Goku looked like in Super Saiyan Ape form, will probably see that the picture is not quite the same as in the manga.
"Dragonball" is adapted from the manga created by Akira Toriyama; the work was also turned into a Japanese anime series that played all over the world. It tells the story of an alien sent to destroy Earth, who has a change of heart and decides to join the humans in their fight against various aliens and bad guys. Justin Chatwin is starring as the hero Goku, while James Marsters will play the villain Piccolo in the sci-fi adventure.
Dragonball is directed by James Wong (Final Destination, Jet Li's The One, Final Destination 3), with a script written by Ben Ramsey (The Big Hit, Love and a Bullet). The film stars Justin Chatwin as Goku, James Marsters as Piccolo, Emmy Rossum as Bulma, Chow Yun-Fat as Master Roshi, Jamie Chung as Chi Chi, and Park Joon as Yamcha.
From Dragonball manga – Super Saiyan Ape: