Hey guys! We have some pretty cool & bloody images from the upcoming Hatchet 3 movie, and yes, you're welcome! Guess this is the perfect day for us to continue the saga of Crowley, the Bayou Butcher, who first made his gruesome mark in 2007's Hatchet. That guy sure deserves our full attention, especially 'cause it's Halloween, so let's se what he's got for us this time!
Once again, Adam Green stands behind the script, but he's not directing the third movie. That's BJ McDonnell's job this time. Just for a record, McDonnell is no stranger when it comes to this horror movie – he's Hatchet and Hatchet II cameraman after all, so we have nothing to worry about.
So, in Hatchet 3, we will basically have a chance to watch Marybeth Dunston seeking revenge against Victor Crowley, played by Kane Hodder, who killed her friends, her father and brother. In other words Danielle Harris is back and she will try to find the way to end the voodoo curse that has left Crowley's ghost terrorizing Honey Island Swamp for decades.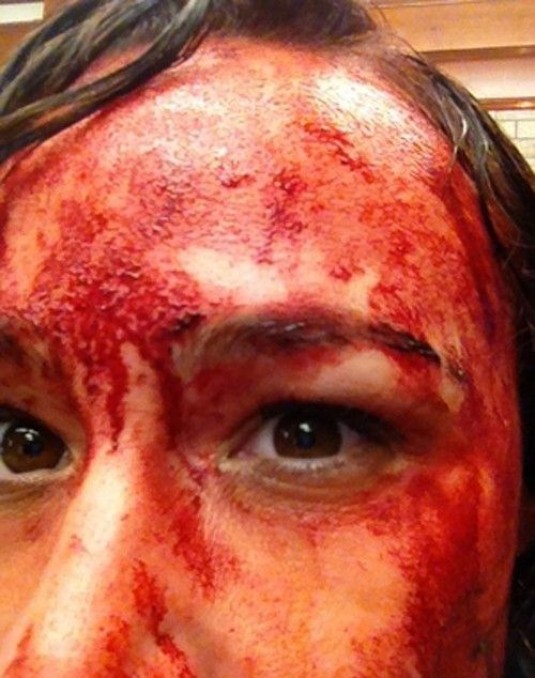 On the other hand, Derek Mears is also on board to play a brooding, pompous SWAT team leader who is sent in to contain the carnage strewn about the haunted swamp.
Caroline Williams sure looks scared on that first picture, but don't get confused – she actually plays a fast-talking journalist who fancies herself an expert on the legend of supernatural stalker Crowley.
The rest of the Hutchet 3 cast also includes Zach Galligan, Cody Blue Snider, Sean Whalen and Jason Trost.
And, just as an additional gift for you, here's what director McDonnell had to say about the new death scenes:
They are out of control. There are a lot of fast stuff that happens and then there are some kills that are just kind of mean. I mean killing anyone is mean, but Crowley is worse in this with some of his kills. There is a side of him in this that is very dark and it makes you go – Wow, that is messed up…
Sounds good or what?
Let us know what you think, and make sure you stay tuned for more updates (yeah, I know, the whole thing is still without an official release date, which sucks!)