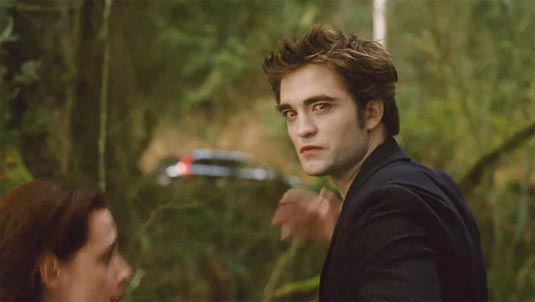 Today we have the first TV spot and second clip from "New Moon". TV spot showing the confrontation between Edward Cullen (Robert Pattinson) and Jacob (Taylor Lautner) and the second clip features Edward fighting to save Bella (Kristen Stewart) from the Volturi vampires.
Chris Weitz (The Golden Compass) is directing the sequel, which also stars Ashley Greene, Peter Facinelli, Elizabeth Reaser, Kellan Lutz, Nikki Reed, Jackson Rathbone, Edi Gathegi, Rachelle Lafevre, Billy Burke, Charlie Bewley, Dakota Fanning and Michael Sheen.
New Moon TV Spot:
"The Twilight Saga: New Moon" arrives in theaters on November 20, a year after the first film based on Stephenie Meyer's books made it out.
New Moon Clip #2:
[youtube]http://www.youtube.com/watch?v=pT7-Hx1vcRY[/youtube]