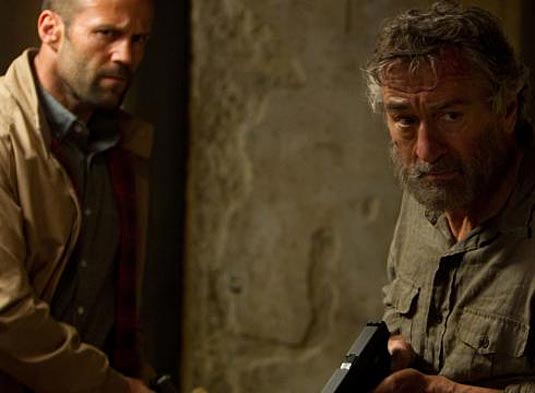 USA Today has just premiered the fist photo of Robert De Niro and Jason Statham from their new action/thriller Killer Elite, based on the novel "The Feather Men" by Ranulph Fiennes.
The film, directed by Gary McKendry (Everthing in This Country Must) also stars Clive Owen, Yvonne Strahovski and Dominic Purcell.
This is more rooted in reality, and it's exactly what I've wanted to do for the past 10 years," says Statham, who compares the feel of the film to the Jason Bourne franchise.  This is the kind of movie I would want to see

"It involves a Saudi prince whose sons were assassinated in the Oman war and who is looking for revenge."
That means he and his team must take down the three killers responsible as well as their protector (Clive Owen) before De Niro can be saved.
The intense face-offs happen around the world, but most of the filming was done in Australia for practical reasons.
"That is where the financiers are from," the actor explains. "But these days you don't have to actually be there to make it feel like Paris."
Killer Elite is scheduled to hit theaters on September 23rd, 2011.