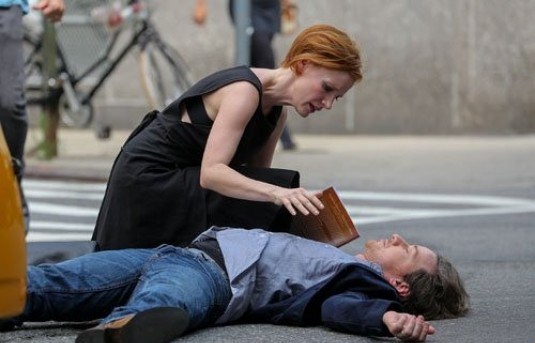 For my money, with lead actors like James McAvoy and Jessica Chastain there's almost no way it could be a disappointing film, or films.
Ned Benson (In Defiance of Gravity) wrote the two scripts and will direct both films. The impressive cast also includes William Hurt (Into the Wild), Viola Davis (The Help), Jess Weixler (Free Samples), Bill Hader (SNL), Ciarán Hinds (Munich), and Nina Arianda (Midnight in Paris).
The first poster and synopsis for the dramas told in two parts – The Disappearance of Eleanor Rigby: His and The Disappearance of Eleanor Rigby: Hers have found their way online.
I assume that poster and synopsis may be an unofficial leak because they have been removed from the film's websites at the request of the studio.
There's no release date for the film just yet.
Here's the teaser poster which looks like a bad Photoshop job. The subtitles have been changed to 'His Story' and 'Her Story'.
*** POSTER IMAGE REMOVED AT THE REQUEST OF MYRIAD PICTURES***
And, here's too short synopsis:
Two films – interwoven to complete one story. Set in the hip areas of New York City, we follow the paths of Eleanor Rigby and her husband Conor. When Eleanor suddenly disappears back to her family home and avoids all contact with Conor, we question what broke down the relationship that once seemed so right.
Until we hear something more official, this is little more than hearsay.
Source: HeyUGuys