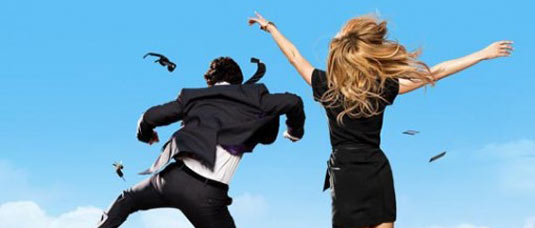 Leave your baggage behind. Hm, that sounds great, but I'm a little bit confused about the first poster for the upcoming Wanderlust movie.
I mean, it would be better if Paul Rudd and Jennifer Aniston were naked, or something, hope you'll agree? Anyway, it looks like a classic poster for a comedy, which means – not impressive, but not so bad after all.
So, we all know that Wanderlust stars Rudd and Aniston as a couple who leaves the pressures of the big city and joins a freewheeling community where the only rule is to be yourself.
They actually play George and Linda who are an overextended, stressed out Manhattan couple. After George is downsized out of his job, they find themselves with only one option: to move in with George's awful brother in Atlanta.
And that's where the fun starts (I guess) because on the way there, they stumble upon Elysium, an idyllic community populated by colorful characters who embrace a different way of looking at things. Yeah, that's definitely a fun-part!
The rest of the cast includes Justin Theroux, Malin Akerman, Kathryn Hahn, Lauren Ambrose, Ken Marino, Joe Lo Truglio, Kerri Kenney-Silver and Alan Alda.
Wanderlust is directed by Role Models helmer David Wain and it is set to open on February 24th, 2012.