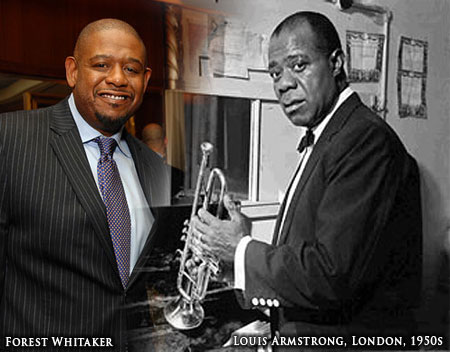 Forest Whitaker is set to direct and star in "What a Wonderful World" – which is based on the life of Louis Armstrong.
It's been twenty years since Forest Whitaker first got under the skin of a true jazz great, with his wonderful turn as Charlie Parker in Clint Eastwood's "Bird."
The film will be called "What a Wonderful World" based on Armstrong's well known song and will chronicle the musician's life from his impoverished early days in New Orleans to his death in 1971 following a long career over which he transformed jazz and popular music as a whole.
Whitaker's last outing behind the camera was on the forgettable family comedy, "First Daughter." That was before he won an Oscar for "The Last King Of Scotland," of course – and it looks like he's using his newfound clout well, by directing a true passion project.
Oscar Cohen (who is also the executive of the Armstrong estate and the Louis Armstrong Educational Foundation) will also handle executive producing chores on the film and is granting the filmmakers exclusive access to letters and other material from the estate's archives, as well as his own memories.
According to Variety, Ron Bass will pen the original script.
"Armstrong left a monumental mark on our lives and our culture," said Whitaker, who portrayed jazz great Charlie Parker in "Bird." "He lived an amazing life and, through his art, shifted the way music was played and would be heard after him, not just here in the US but all over the world."
"What a Wonderful World" will begin shooting in the summer in Louisiana.