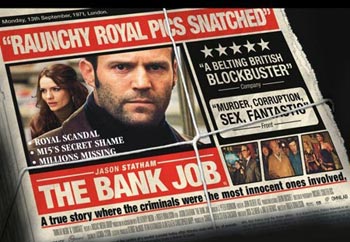 This week sees the release of Jason Statham's crafty little crime caper based on true events, starring Saffron Burrows and David Suchet, 'The Bank Job'. Now, not only have we got the verdict on the film (click here to read) we've also got four flashy clips from the film!'The Bank Job' is inspired by an extraordinary true event, a daring, unsolved robbery, which took place more than 35 years ago in London.
A highly-charged thriller, directed by Roger Donaldson and starring Jason Statham and Saffron Burrows, it interweaves a heady combination of intrigue, scandal and danger and has been described by its producers as "an amazing untold story of murder, sex and corruption".
In September 1971, thieves tunnelled into the vault of a bank in London's Baker Street and looted safe deposit boxes of cash and jewellery worth millions and millions of pounds. None of it was recovered. Nobody was ever arrested. The robbery made headlines for a few days and then disappeared – the result of a UK Government 'D' Notice, gagging the press. This film reveals what was hidden in those boxes. The story involves murder, corruption and a sex scandal with links to the Royal Family – a story in which the thieves were the most innocent people involved.
Take yer pick and make a click on the clips or check out the trailer below…
>> CONTENT REMOVED<<