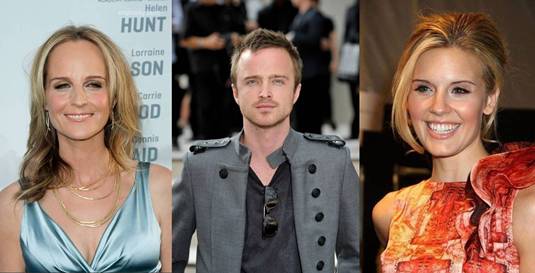 Vet Helen Hunt, Emmy-winning star Aaron Paul and former Lost star Maggie Grace all join a cast of Samantha Morton in the title role and Christina Hendricks in Steven Bernstein's indie-dramedy Decoding Annie Parker.
The story follows the irrepressible Parker, a breast-cancer patient who stops at nothing to solve the mystery behind her illness, despite the beliefs of the medical establishment.
Based on a true story, an idea for Decoding hatched between Bernstein and Clark Peterson after they collaborated on the debut film from writer-director Patty Jenkins – Monster – the former as a director of photography and the latter as a producer. Steve was great and everyone was interested in the stroke each artist was adding to this collective painting.
This time Bernstein went on to script the film with his brother Adam Bernstein.
Decoding Annie Parker begins shooting in Los Angeles at the end of October.
A few weeks ago, Paul signed on to another indie dramedy, Smashed.
Maggie Grace, who played Shannon on Lost was chosen to play Irina in The Twilight Saga: Breaking Dawn. She also has the lead role of Alice in Malice in Wonderland,
Helen Hunt, who won the Best Actress Academy Award for her role in As Good as It Gets, currently owns a production company with Connie Tavel. She made her directorial debut in 2007 with Then She Found Me.
In short, there's a lot packaged in here for a small indie.
Check out the trailer for Monster, Steven Bernstein and Clark Peterson's previous collaboration. The film was also based on a true life story.
[youtube]http://www.youtube.com/watch?v=vq70brIQP40[/youtube]
Monster – Trailer (2003)