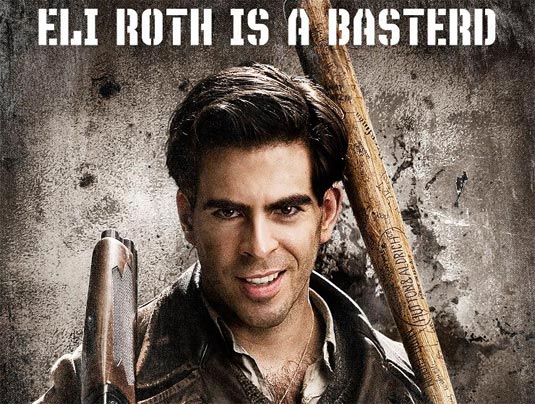 Over the weekend we got the first character poster for Quentin Tarantino's "Inglourious Basterds" featuring Brad Pittand the tagline "Brad Pitt is a Basterd" . Today, from IMPAwards, we get a new poster for the movie featuring Eli Roth.
The film inspired by directed by Enzo Castellari's 1978 Italian war movie "The Inglorious Bastards" follows a band of Jewish-American soldiers dropped into France to spread terror among the Nazi occupiers.
Opening August 21st, the ensemble cast also includes Diane Kruger, Melanie Laurent, Christoph Waltz, Daniel Bruhl, Samm Levine, B.J. Novak, Til Schweiger, Gedeon Burkhard, Paul Rust, Michael Bacall, Omar Doom, Sylvester Groth, Julie Dreyfus, Jacky Ido, August Diehl, Martin Wuttke, Richard Sammel, Christian Berkel, Sonke Mohring, Michael Fassbender, Mike Myers, Rod Taylor, Denis Menochet, Cloris Leachman, Maggie Cheung and Samuel L. Jackson.
The film is set to premiere at the Cannes Film Festival this month before appearing in theaters on August 21st.