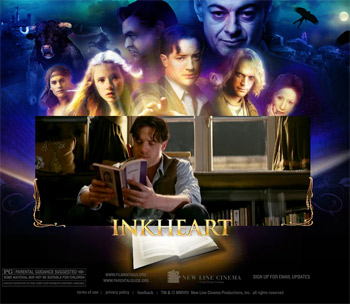 Brendan Fraser will be a little less busy in 2008, now that Inkheart has been delayed from its planned release this fall to an early 2009 spot. But lest you think New Line delayed the release to give its poor star a release, check this out: the studio openly admitted the delay was due to the impact of the writer's strike on television.
"Huh?" you ask? Well, remember that New Line got seriously burned with their most recent fantasy epic, The Golden Compass. While there are plenty of reasons why it tanked, the most likely being that it just wasn't very good, you could argue that the lack of new TV programming meant fewer people were seeing their TV ads, which meant fewer people wanted to see it. Now flash-forward to a year from now, with the strike still going on. Will anyone be watching TV anymore? Given how easy it is to reach out to kids–Inkheart's target audience—through television, you can see why they'd want to catch as many eyeballs as they can on the small screen.

This is the first time a studio has postponed a project because of the strike, except for those hampered by script problems, of course.
It's not much of a sign of confidence from New Line, given that they expect the whole thing to go on for at least another nine months. But it's mostly a reminder that New Line is not a studio that can afford to take risks right now, especially with another big-budget fantasy epic that could very well become The Golden Compass 2: Another Gigantic Failure. I have no idea what this does for the WGA in terms of giving them more leverage, other than just being another example of how they've got all of Hollywood by the throat. Sigh… it's going to be a long couple of months/years/eons before this mess is over.