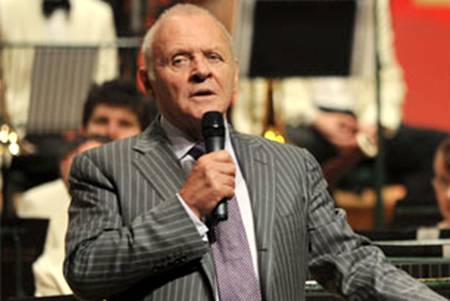 Sir Anthony Hopkins, who returned to his homeland in Wales this summer to show off his musical side, despite having a broken leg, seems doesn't have to go away from his more iconic roles so that he can prove his range.
Hollywood star is set to return to the serial killer genre, but this time Hopkins will fish out criminals instead of victims. Famous for skinning the innocent in Silence of the Lambs vet thesp is in final talks to star as Dr. John Clancy in New Line's Solace – a former doctor with psychic abilities who works for the FBI and is drawn into a unique serial killer case that pits him against a formidable foe.
Sean Bailey and Ted Griffin wrote the first draft, but a crime thriller Solace script was most recently re-written by Zodiac scribe James Vanderbilt. Furthermore, Peter Morgan (Frost/Nixon) wrote the current draft of the script.
Well, it leads us to the conclusion that Solace was originally designed as a sequel to the 1995 Se7en in which Morgan Freeman's cop character was replaced with Anthony Hopkins' psychic doctor – of course, all of this is just speculation.
However, the movie doesn't yet have a director attached and the production is slated to begin early next year.
Oscar-winning actor has had memorable roles on two films this year, starring in The Rite back in January and Thor in May. Hopkins will next be seen in Fernando Meirelles' 360, also written by Peter Morgan that will make its world premiere at the Toronto International Film Festival later this week.
If you somehow missed Rome's most aggressive devil exterminator, check him out in the trailer for The Rite that tells the story of an American priest who travels to Italy to study at an exorcism school.
[youtube]http://www.youtube.com/watch?v=FhHnP-9iekg[/youtube]
The Rite (2011) – Official Trailer
Source: Variety