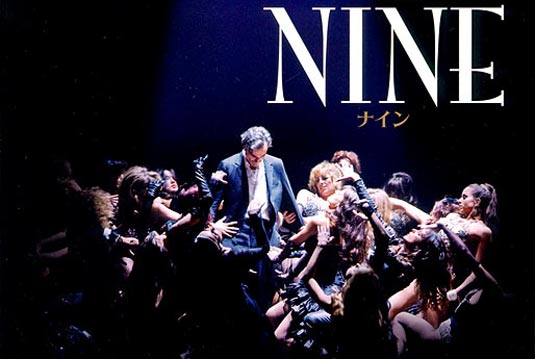 Earlier we posted some Hi-Res images from the upcoming Rob Marshall's new musical "Nine″ and today we have a international poster.
Marshall's movie is based on the Broadway musical of the same name written by Federico Fellini, Ennio Flaiano. Adapted from the 1982 Tony-winning Broadway musical, "Nine" is set to be helmed by "Chicago" director Rob Marshall. The film actually was set to be tackled by the late writer/director Anthony Minghella and previously scheduled to begin filming in March 2008.
"Nine" is a musical following a film director named Guido Contini (Daniel Day-Lewis instead Javier Bardem), who is in his middle age. He is trying to complete his next film. His main problem is that he has too many women in his life. Luisa (Marion Cotillard), his wife, Carla (Penelope Cruz) his sexy mistress, and Claudia (Nicole Kidman), his muse and protege.
The film, also stars  Judi Dench, Sophia Loren, Kate Hudson and Fergie, is scheduled to hit theaters on November 25, 2009.