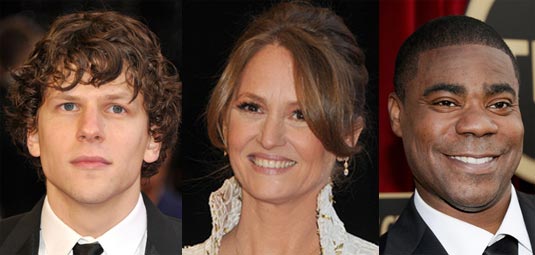 They are still in our fresh memory. Melissa Leo won an Oscar, (and you can find her now all over the internet if you just write the "f" word with her name), Jesse Eisenberg didn't, but that doesn't matter, because they are now on board to star in an indie comedy titled Why Stop Now?.
This project will be directed by Oscar nominated scribe/co-writer Ron Nyswaner (Philadelphia), and for more details check out the rest of this report.
Thanks to Vulture we know that Predisposed is "a macabre look at the unhealthy relationship between a drug-addicted mother (Leo) and her college-bound son (Eisenberg), set on the day of both his interview at Julliard and her planned arrival in rehab.
Complicating matters, mom's lack of health insurance means she can only be admitted to rehab if she shows up intoxicated; further complicating matters is the feud that erupts between mom's drug dealer, Sprinkles."
In addition to that, we also learned that 30 Rock star, Tracy Morgan, is in negotiations to star as that drug dealer.
And, jut for a record, Why Stop Now? (previously title "Predisposed") was entered into Sundance in 2009 as a short, which also starred Leo. That version was directed by Philip Dorling, while this upcoming project will be directed by Nyswaner.
Still, both Dorling and Nyswaner are responsible for the script.
The shooting begins this summer, and, as usual, we'll keep an eye on Why Stop Now?!