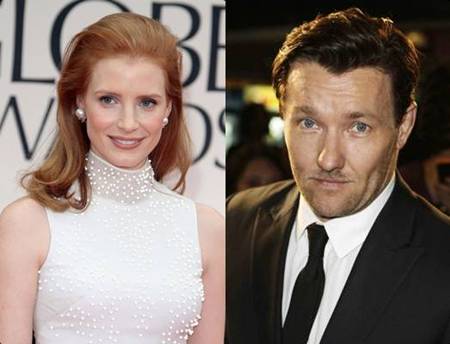 Kathryn Bigelow's 'Untitled International Thriller' about SEAL Team Six and the mission to kill Osama bin Laden won't be the last time that Jessica Chastain and Joel Edgerton will hang together.
Two of Hollywood's biggest up-and-comers signed on for a double feature project called The Disappearance of Eleanor Rigby: His and The Disappearance of Eleanor Rigby: Hers.
The story of a New York restaurant owner and his wife, who goes back to college will be told in two, feature-length movies — one from the husband's point of view, one from the wife's.
Kirk D'Amico, the CEO of Myriad Pictures, said in a statement:
We have to make both films work on their own, both for the buyers but also for the audiences" Kirk D'Amico, the CEO of Myriad Pictures, said in a statement. Together these films will describe a fully, more complete look at these characters and their lives.
D'Amico seems to think they are really going to be able to get moviegoers to pay to see the same story twice. If the film can be sold twice, it could be very profitable.
William Hurt is in talks to join the cast, as well.
Relatively newcomer Ned Benson (In Defiance of Gravity) wrote and will direct the stand-alone films.
In addition to Bigelow's picture, Edgerton'll be seen later this year in the family movie The Odd Life of Timothy Green and Baz Luhrmann's adaptation of The Great Gatsby.
Chastain is up for an Oscar for best supporting actress for The Help and is also in the horror film Mama, John Hillcoat's The Wettest County, and an untitled feature from Terrence Malick.
[youtube]http://www.youtube.com/watch?v=giu8zZNbkgE[/youtube]
The Odd Life of Timothy Green – Trailer