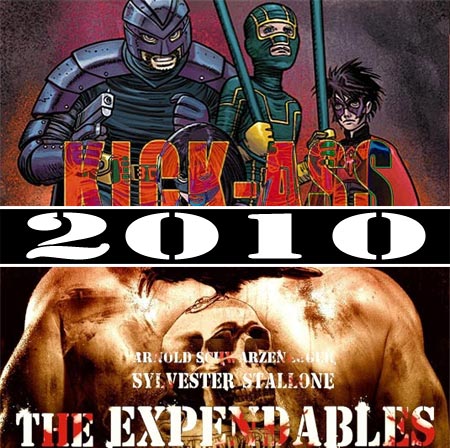 Lionsgate has just announced the release dates (via Twitter) for Matthew Vaughn's "Kick-Ass" film and Sylvester Stallone's "The Expendables," two highly anticipated upcoming movies.
"Kick-Ass" will be released on April 16th, 2010. The announcement comes only a month after Lionsgate acquired the comicbook adaptation.
Kick-Ass follows a high school dweeb named Dave Lizewski (Aaron Johnson). Lizewski decides to become a superhero, even though he has no athletic ability or coordination. Things change when he eventually runs into real bad guys, with real weapons. Nicolas Cage plays a former cop who tries to bring down a drug lord and has trained his daughter (Chloe Moretz) to be a lethal weapon.
Stallone's "The Expendables, starring Stallone, Jason Statham, Jet Li,  Randy Couture and Dolph Lundgren, has been scheduled for August 20th, 2010. The story follows a group of mercenaries who are trying to overthrow a corrupt South American dictator.