An amateur home movie has been discovered recently which apparently contains the last known film images of comedy legend Stan Laurel (born Arthur Stanley Jefferson; June 16, 1890 – February 23, 1965), once celebrated as half of the most famous comedy duo in the world: Laurel & Hardy.
The rare and historic eight millimeter film, which captures a playful Laurel displaying his trademark impish smile while scratching his head, is just two minutes in length and was taken at his Santa Monica apartment by James and Irene Heffernan, a Los Angeles couple who were acquainted with the film comedian in his final years.
According to Laurel's daughter, Lois Laurel Hawes, the film was made in late December of 1964, just two months before his death. A letter from Laurel to the Heffernans, dated January 15, 1965, mentions their yuletide visit when, apparently, the footage was shot.
Also featured in the brief home movie segment is Laurel's honorary "Oscar" award for Lifetime Achievement which was presented to him by the Academy of Motion Picture Arts & Sciences (AMPAS) in 1961.
Apparently lost and forgotten for decades among the numerous entertainment and travel home movies made by the active couple during the 1960s, this final footage of Laurel was not known to exist until several months ago and has never been viewed publicly.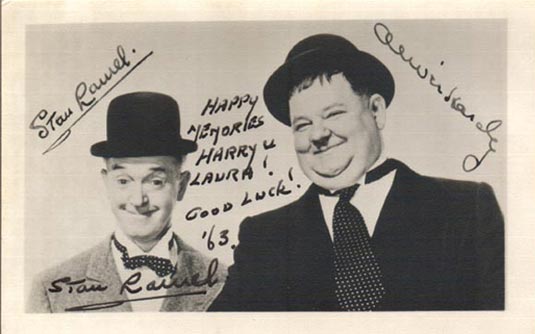 Stan Laurel and Oliver Hardy photo
However, the film's present owner plans to arrange for the landmark footage to be seen by Laurel & Hardy fans worldwide on June 16, 2010, which happens to be the comic's date of birth. According to actor/producer Tyler St. Mark, who purchased the remarkable footage from the Heffernan estate, "Stan Laurel performs a special gesture at the end of the film clip which was clearly intended for his millions of fans worldwide and so we will help him deliver his message 46 years later – on the 120th anniversary of his birthday."
Laurel & Hardy – Hollywood Party (1934)
[youtube]http://www.youtube.com/watch?v=g3cvUuRQtSc[/youtube]