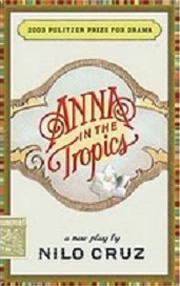 Lee Daniels, or, if you prefer, the Precious director, is quite busy guy these days.
He already has two new projects in the pipeline, (Selma and The Butler), and now we had a chance to hear that another one is coming!
Project titled Anna in the Tropics is an upcoming movie based on Nilo Cruz's Pulitzer Prize-winning Broadway play that won a Steinberg Prize and two Tony nominations.
"This lush romantic drama depicts a family of cigar makers whose loves and lives are played out against the backdrop of America in the midst of the Depression.
Set in Ybor City (Tampa) in 1930, Cruz imagines the catalytic effect the arrival of a new "lector" (who reads Tolstoy's Anna Karenina to the workers as they toil in the cigar factory) has on a Cuban-American family. Cruz celebrates the search for identity in a new land."
Daniels will develop the script with Cruz, starting in January.
Here's what Cruz had to say about the whole thing:
"I always saw it as a film. Even though I wrote is as a play, I just think it has endless possibilities as a film. The play itself is full of images and I want to open it up to the world film offers."
Let's wait and see how the things will work out for them. Stay tuned!