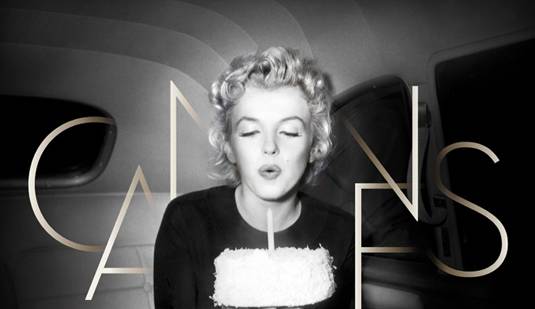 The gentlemen of the Festival de Cannes have chosen to pay tribute to Marilyn Monroe by selecting a photo of the Hollywood sex goddess for the poster of the 2012 event.
The Festival said in a statement Tuesday that:
Fifty years after her death, Marilyn is still a major figure in world cinema, an eternal icon, whose grace, mystery and power of seduction remain resolutely contemporary. The Festival is a temple of glamour and Marilyn is its perfect incarnation.
Cannes continues its tradition of putting stars front and center, as Faye Dunaway has been unveiled as the poster star for the 2011 Cannes and Juliette Binoche in 2010.
The new poster shows Monroe blowing out a candle on a birthday cake.
The 65th Cannes Film Festival runs from May 16th to 27th with the 2001 Palme d'Or winner, Nanni Moretti to preside the Jury at this year's festival on the French Riviera.
Marilyn has also been back in the spotlight recently with Michelle Williams portrayed her in My Week with Marilyn, earning an Independent Spirit Award, as well as Golden Globe and an Oscar nomination for the role, while NBC's musical drama "Smash" focuses on the creation of a Broadway musical based on Marilyn's life and it stars American Idol's Katharine McPhee and Wicked's Megan Hilty.
Check out the full one sheet below: