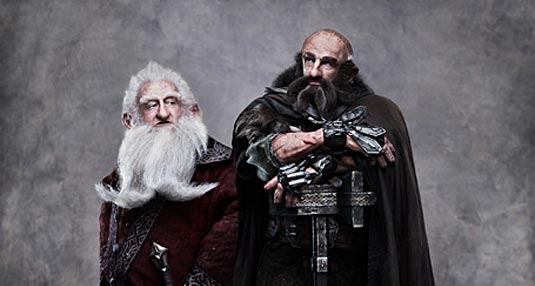 TIME has just premiered this first look at Ken Stott as Balin and Graham McTavish as Dwalin from Peter Jackson's The Hobbit, following Bombur, Bofur & Bifur from just a few days ago.
Check out the full image after the jump.
Lords Balin and Dwalin From The Hobbit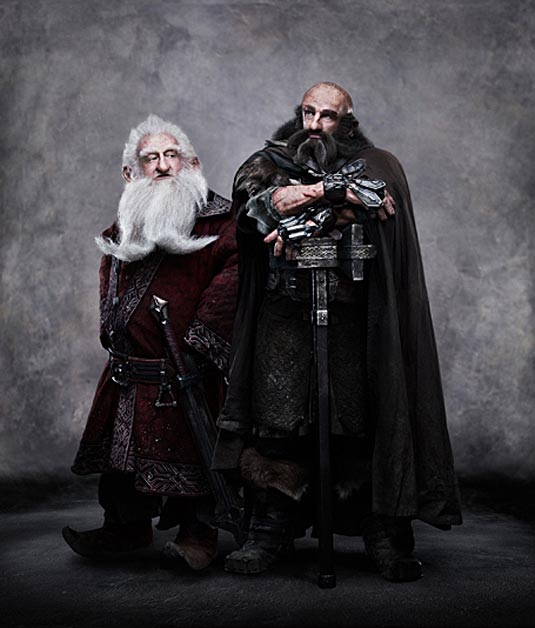 Dwarf Lords in their own right, Balin and Dwalin are close relatives of Thorin. Beyond this, these brothers are two of his most loyal and trusted friends. An old warrior, Balin has lived through hard times and fought many battles, yet he harbors doubts about the wisdom of the Quest to retake the Lonely Mountain. Dwalin has no such forebodings – his belief in Thorin's leadership is unshakeable. A powerful and bruising fighter, with a natural tendency to distrust anyone who is not a Dwarf, particularly anyone who might be an Elf, Dwalin is not someone to cross lightly.
Here's a plot synopsis for The Hobbit: An Unexpected Journey:
"The Hobbit" follows the journey of title character Bilbo Baggins, who is swept into an epic quest to reclaim the lost Dwarf Kingdom of Erebor, which was long ago conquered by the dragon Smaug. Approached out of the blue by the wizard Gandalf the Grey, Bilbo finds himself joining a company of thirteen dwarves led by the legendary warrior, Thorin Oakensheild. Their journey will take them into the Wild; through treacherous lands swarming with Goblins and Orcs, deadly Wargs and Giant Spiders, Shapeshifters and Sorcerers.

Although their goal lies to the East and the wastelands of the Lonely Mountain first they must escape the goblin tunnels, where Bilbo meets the creature that will change his life forever… Gollum.

Here, alone with Gollum, on the shores of an underground lake, the unassuming Bilbo Baggins not only discovers depths of guile and courage that surprise even him, he also gains possession of Gollum's "precious" ring that holds unexpected and useful qualities… A simple, gold ring that is tied to the fate of all Middle-earth in ways Bilbo cannot begin to know.
The creative team behind the Lord of the Rings trilogy returns to Middle-earth with this adaptation of J.R.R. Tolkien's classic precursor The Hobbit. Peter Jackson and Fran Walsh share writing duties with Guillermo del Toro on the Warner Bros./MGM joint production, the story of which will span two films.
The Hobbit: An Unexpected Journey is scheduled to hit theater on December 14, 2012 and  its sequel The Hobbit: There and Back Again follows on Dec. 13, 2013.