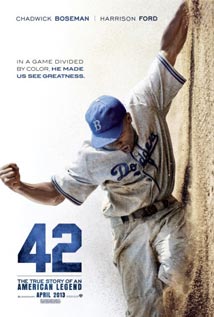 Release Date:

April 12th, 2013

Director:

Brian Helgeland

Writers:

Brian Helgeland

Actors:

Chadwick Boseman, Christopher Meloni, Harrison Ford

Genre:

Biography, Drama, Sport

MPAA Rating:

PG-13 (for thematic elements including language)

Studio:

Legendary Pictures

Last Update:

February 8th, 2013

Rating:
Synopsis
Boseman will depict the iconic baseball star Jackie Robinson, paying tribute to the legacy and impact Robinson made when he became the first African American Major League Baseball player.
Ford will star as Branch Rickey, the innovative Major League Baseball executive who is best known for breaking MLB's color barrier by signing Jackie Robinson to a minor league contract in 1945. Two years later, at the start of the 1947 major league baseball season, Robinson was signed to the Brooklyn Dodgers major league baseball team with the help of Rickey. Rickey was elected to the Baseball Hall of Fame in 1967.