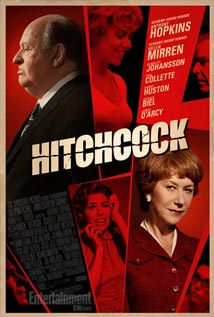 Release Date:

November 23rd, 2012

Director:

Sacha Gervasi

Writers:

John J. McLaughlin, Stephen Rebello

Actors:

Anthony Hopkins, Helen Mirren, James D'Arcy, Jessica Biel, Scarlett Johansson

Genre:

Biography, Drama

MPAA Rating:

PG-13 (for some violent images, sexual content and thematic material)

Studio:

Fox Searchlight Pictures

Last Update:

January 7th, 2013

Rating:
Synopsis
Based on "Alfred Hitchcock and the Making of Psycho," Stephen Rebello's non-fiction book. The 1998 book "tracks how Hitchcock, at the height of his game as a director, decided to make a 'lowly' horror movie. No studio wanted to touch it initially so Hitchcock scrounged for financing by himself." The film is centered on the relationship between Hitchcock and his wife Alma Reville.