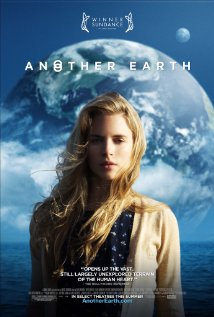 Release Date:

October 12th, 2011

Director:

Mike Cahill

Writers:

Brit Marling, Mike Cahill

Actors:

AJ Diana, Ana Valle, Brit Marling, Bruce Colbert, DJ Flava, Flint Beverage, Jeffrey Goldenberg, Jordan Baker, Joseph A. Bove, Matthew-Lee Erlbach, Meggan Lennon, Paul Mezey, Robin Taylor, Rupert Reid, William Mapother

Genre:

Drama, Sci-Fi

MPAA Rating:

PG-13

Studio:

Fox Searchlight Pictures

Last Update:

January 4th, 2012

Rating:
Synopsis
In "Another Earth," Rhoda Williams (Marling), a bright young woman accepted into MIT's astrophysics program, aspires to explore the cosmos. A brilliant composer, John Burroughs (Mapother), has just reached the pinnacle of his profession and is about to have a second child. On the eve of the discovery of a duplicate Earth, tragedy strikes and the lives of these strangers become irrevocably intertwined.
Trailer: