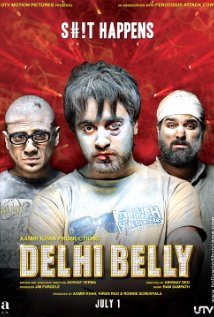 Release Date:

July 1st, 2011

Director:

Abhinay Deo

Writers:

Akshat Verma

Actors:

Anusha Dhandekar, Ashraf-Ul-Haque, Bugs Bhargava, Dhaval Barbhaya, Divya Bhatia, Imran Khan, Kim Bodnia, Kunaal Roy Kapur, Neville Dadachanji, Nikita Bhatt, Paresh Ganatra, Poorna Jagannathan, Shenaz Treasury, Vijay Raaz, Vir Das

Genre:

Comedy, Crime, Drama

MPAA Rating:

Not available

Studio:

UTV Motion Pictures

Last Update:

January 4th, 2012

Rating:
Synopsis
Tashi, Arup and Nitin – flatmates, buddies and partners in crime. Tashi is to get married in a month but still doesn't know if his fiancée is THE ONE! Arup can't make up his mind who he wants to kill first – his girlfriend who has just dumped him or his stupid, annoying boss whose idea of creativity is sketching a smiling banana! And Nitin is about to discover that eating delicious tandoori chicken off a street vendor is going to give him the worst case of Delhi Belly he's ever known! Three regular blokes, living the regular life EXCEPT for one small detail – they are on the hit list of one of the world's deadliest crime syndicates. Will they be able to get away before the 's#!t hits the roof' and it comes crashing down?
Trailer: