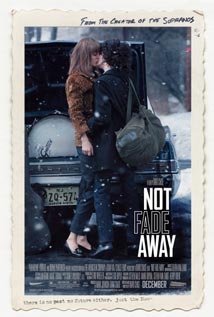 Release Date:

December 21st, 2012

Director:

David Chase

Writers:

David Chase

Actors:

Alex Veadov, Bella Heathcote, Brad Garrett, Christopher McDonald, Isiah Whitlock Jr., Jack Huston, James Gandolfini, John Magaro, Julia Garner, Justine Lupe, Lisa Lampanell, Lisa Lampanelli, Meredith Forlenza, Molly Price, Robert Funaro, Veronica Diaz, Will Brill

Genre:

Drama

MPAA Rating:

R (for pervasive language, some drug use and sexual content)

Studio:

Paramount Vantage

Last Update:

October 4th, 2012

Rating:
Synopsis
Making his feature directing debut, David Chase's (The Sopranos) coming-of-age movie is set in New Jersey in 1964 where a group of friends are inspired to form their own rock band fronted by a gifted singer-songwriter (terrific newcomer John Magaro). The film masterfully captures the era's conflicting attitudes and ideologies, all set to a dynamic soundtrack produced by the legendary Steven Van Zandt. The film also stars Jack Huston, Will Brill, Bella Heathcote, James Gandolfini, Brad Garrett and Christopher McDonald. To be released by Paramount Vantage, the film's roll-out will begin on December 21, 2012.