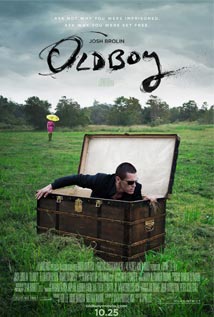 Release Date:

November 27th, 2013

Director:

Spike Lee

Writers:

Garon Tsuchiya, Mark Protosevich, Nobuaki Minegishi

Actors:

Elizabeth Olsen, James Ransone, Josh Brolin, Samuel L. Jackson, Sharlto Copley

Genre:

Thriller

MPAA Rating:

Not available

Studio:

FilmDistrict

Last Update:

August 2nd, 2013

Rating:
Synopsis
A remake of the highly-acclaimed South Korean suspense film. "Oldboy" follows the story of an advertising executive (Josh Brolin) who is kidnapped and held hostage for 20 years in solitary confinement without any indication of his captor's motive. When he is inexplicably released, he embarks on an obsessive mission to discover who orchestrated his bizarre and torturous punishment only to find he is still trapped in a web of conspiracy and torment. His quest for revenge leads him into an ill-fated relationship with a young social worker (Elizabeth Olsen) and ultimately to an illusive man (Sharlto Copley) who allegedly holds the key to his salvation.