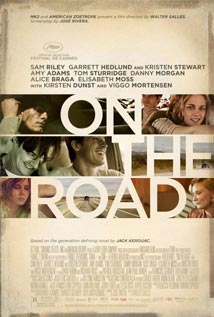 Release Date:

December 21st, 2012

Director:

Walter Salles

Writers:

Jack Kerouac, Jose Rivera

Actors:

Alice Braga, Amy Adams, Danny Morgan, Elisabeth Moss, Elizabeth Moss, Garrett Hedlund, Kirsten Dunst, Kristen Stewart, Marie-Ginette Guay, Sam Riley, Tom Sturridge, Viggo Mortensen

Genre:

Adventure, Drama

MPAA Rating:

R (for strong sexual content, drug use and language)

Studio:

Sundance Selects

Last Update:

November 7th, 2012

Rating:
Synopsis
On the Road tells the provocative story of Sal Paradise (Sam Riley), a young writer whose life is shaken and ultimately redefined by the arrival of Dean Moriarty (Garrett Hedlund), a free-spirited, fearless, fast talking Westerner, and his girl, Marylou (Kristen Stewart). Together, Sal and Dean travel cross-country in a quest for freedom from the conformity and conservatism engulfing them, in search of the unknown, themselves, and the pursuit of "it" — the pure essence of experience. Seeking unchartered terrain and the last American frontier, the duo encounter an eclectic mix of men and women — Bull (Viggo Mortensen), Camille (Kirsten Dunst), Carlo (Tom Sturridge), Jane (Amy Adams), Terry (Alice Braga), and Galatéa (Elisabeth Moss) – each adding meaning to their desire for a new way of life.