Something Borrowed (2011)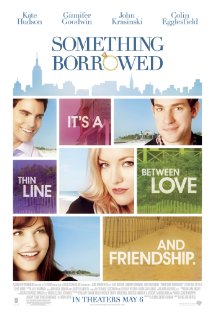 Release Date:

May 6th, 2011

Director:

Luke Greenfield

Writers:

Emily Giffin, Jennie Snyder

Actors:

Ashley Williams, Christopher Peuler, Colin Egglesfield, Geoff Pierson, Ginnifer Goodwin, Jill Eikenberry, John Krasinski, Jonathan Epstein, Kate Hudson, Kirsten Day, Leia Thompson, Lindsay Ryan, Mark La Mura, Sarah Baldwin, Steve Howey

Genre:

Comedy, Drama, Romance

MPAA Rating:

PG-13

Studio:

Warner Bros. Pictures

Last Update:

January 7th, 2012

Rating:
Synopsis
Rachel (Ginnifer Goodwin) is a talented attorney at a top New York law firm, a generous and loyal friend and, unhappily, still single…as her engaged best friend Darcy (Kate Hudson) is constantly reminding her. But after one drink too many at her 30th birthday party, perpetual good girl Rachel unexpectedly ends up in bed with the guy she's had a crush on since law school, Dex (Colin Egglesfield), who just happens to be Darcy's fiancé. When Rachel and Darcy's lifelong friendship collides with true love, it leads to unexpected complications and potentially explosive romantic revelations. Meanwhile, Ethan (John Krasinski), who has been Rachel's constant confidante and sometimes conscience, has been harboring a secret of his own, and Marcus (Steve Howey), an irrepressible womanizer, can't keep his mind out of the gutter or his hands off any girl within reach.