The Twilight Saga: Breaking Dawn – Part 2 (2012)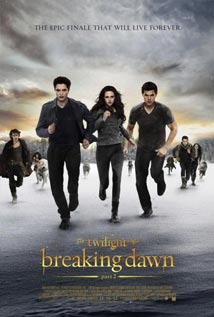 Release Date:

November 16th, 2012

Director:

Bill Condon

Writers:

Melissa Rosenberg, Stephenie Meyer

Actors:

Anna Kendrick, Ashley Greene, Dakota Fanning, Elizabeth Reaser, Jackson Rathbone, Jamie Campbell Bower, Kellan Lutz, Kristen Stewart, Mackenzie Foy, Maggie Grace, Michael Sheen, Nikki Reed, Peter Facinelli, Robert Pattinson, Taylor Lautner

Genre:

Adventure, Drama, Fantasy, Romance

MPAA Rating:

PG-13 (for sequences of violence including disturbing images, some sensuality and partial nudity)

Studio:

Summit Entertainment

Last Update:

October 4th, 2012

Rating:
Synopsis
After the birth of Renesmee Cullen, Bella, who is now a vampire, finds herself enjoying her new life and abilities. However, the vampire Irina misidentifies Renesmee as an "immortal child" – a child who has been turned into a vampire – and because immortal children are uncontrollable, creating them has been outlawed by the Volturi. After Irina presents her allegation to the Volturi, they plan to destroy Renesmee and the Cullens.
In an attempt to survive, the Cullens gather other vampire clans from around the world to stand as witnesses and prove to the Volturi that Renesmee is not an immortal child. Upon confronting the gathered Cullen witnesses, the Volturi discover that they have been misinformed and immediately execute Irina for her mistake. However, they remain undecided on whether Renesmee should be viewed as a threat to vampires' secret existence.
Full Breaking Dawn – Part 2 (BTS + Cast Interviews + Scene)
Twilight Saga: Breaking Dawn Part 2 Exclusive Clip