Vanishing on 7th Street (2011)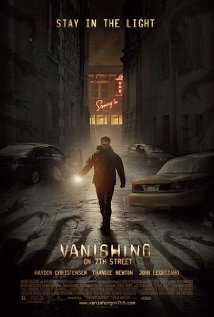 Release Date:

February 18th, 2011

Director:

Brad Anderson

Writers:

Anthony Jaswinski

Actors:

Arthur Cartwright, Carolyn Taylor, Erin Nicole, Hayden Christensen, Hugh Maguire, Jacob Latimore, John Leguizamo, Jordan Trovillion, Larry Fessenden, Neal Huff, Nicholas Yu, Stephen Clark, Taylor Groothuis, Thandie Newton

Genre:

Horror, Mystery, Thriller

MPAA Rating:

R

Studio:

Magnet Releasing (Magnolia Pictures)

Last Update:

March 12th, 2012

Rating:
Synopsis
Four survivors of a mysterious plague of darkness flee the shadows that seem to have consumed all of society in this thriller from Session 9 director Brad Anderson. Detroit has fallen ominously silent; the power to the city appears to have been cut off, and the streets are littered with the clothes of people whose bodies are nowhere to be found. Desperate and terrified, movie-theater projectionist Paul (John Leguizamo) seeks shelter with television news reporter Luke (Hayden Christensen), frightened physical therapist Rosemary (Thandie Newton), and trigger-happy 12-year-old James (Jacob Latimore) in an inner-city bar owned by James' mother, who has apparently vanished along with the rest of humanity. Momentarily safe thanks to a power generator that keeps the clutching shadows at bay, the group ponders how to stay alive as Rosemary fears what fate befell her missing infant son, and Luke conceives a plan to seek out his estranged wife in Chicago. When the lights start to flicker, the fight for their lives begins.