Welcome to the Punch (2013)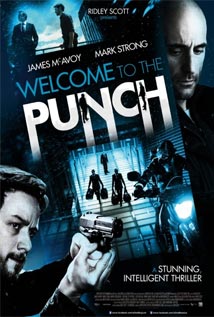 Release Date:

March 27th, 2013

Director:

Eran Creevy

Writers:

Eran Creevy

Actors:

Andrea Riseborough, Cathy Murphy, Daniel Mays, Dannielle Brent, David Morrissey, Elyes Gabel, James McAvoy, Jason Maza, Johnny Harris, Kelvin Wise, Lee Nicholas Harris, Mark Strong, Matthew David McCarthy, Peter Mullan, Robert Portal

Genre:

Action, Adventure, Crime, Thriller

MPAA Rating:

R (for violence and language)

Studio:

IFC Films

Last Update:

April 22nd, 2013

Rating:
Synopsis
An epic crime thriller in the mould of Heat or Internal Affairs. Follows London detective Max Lewinsky, who gets pulled into a big conspiracy plot after the reappearance of his old nemesis, an armed robber known as Red Diesel.The second feature from acclaimed British director and filmmaker Eran Creevy, "Welcome to the Punch" is the story of two arch-nemeses: detective Max Lewinsky (James McAvoy; "X-Men: First Class," "Wanted") and master criminal Jacob Sternwood (Mark Strong; "Sherlock Holmes," "Zero Dark Thirty," "The Guard"). When Sternwood escaped three years ago after a daring robbery, Max was left emotionally and physically scarred. But after Sternwood's son turns up in a hospital due to a failed heist, he's forced to return to London – giving Max his second chance to get the one criminal who got away. Yet as Max delves deeper into the case he uncovers a vast conspiracy. Featuring rising star Andrea Riseborough ("W.E.," "Shadow Dancer") and Peter Mullan ("Tyrannosaur," "War Horse"), the film was shot in the gleaming streets of London's rejuvenated East End and the banking center of Canary Wharf.