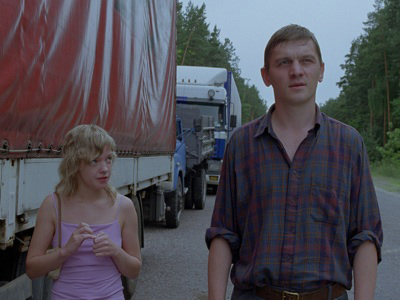 Sergei Loznitsa's debut feature titled My Joy is a story of a truck driver who loses his way in the Russian wilderness and gets drawn into daily life in a Russian village.
Interesting or not, the film is the part of Cannes In Competition screening, set for May 19 and we are here today to have a little chat about this Loznitsa's project, simple post-Soviet reality story that goes like this…
"…a tale of truck driver Georgi who leaves his hometown with his truck laden with goods, but when he is forced to take a wrong turn on the motorway, he finds himself stranded in the middle of nowhere. Georgi desperately tries to find his way out, but gradually, against his will, he becomes drawn into the daily life of a Russian village.
In a place, where brutal force and the instinct to survive overcome humanity and common sense, the truck driver's journey quickly heads towards a dead end. "
Movie cast includes Vlad Ivanov (as Major from Moscow), Viktor Nemets (as Georgy) and Olga Shuvalova (as teenage prostitute).
Loznitsa was in charge not only of directing, but of the screenplay as well. If you are a fan of documentaries, then you are probably familiar with this director's work that includes: Blockade, Revue, Today We Are Going to Build A House, Life, Autumn and The Train Stop.
He was born in Belarus and later moved to Ukraine, studied to be a scientist and then graduated from Moscow's Russian State Institute of Cinematography in 1997.
And here is how he describes his work: "I try to look at the subject, and to show what is interesting. I leave it up to the viewer to make judgments. I'm interested in people whom no one would look, because their photo isn't on a slick magazine cover. The conflicts inside of them, that's what's interesting."
At the end of this report, let's just mention that My Joy is a co-production of Sota Cinema Group, Lemming Film, Germany's ZDF television, with development costs supported by the Berlin-Brandenburg film financing authority.
We like the way he explained what this movie is about, and why he made it in a first place: "for a simpler reason: to show the reality of a place that exists, but of which outsiders have almost no idea."
We wish them good luck and nice night on May 19!