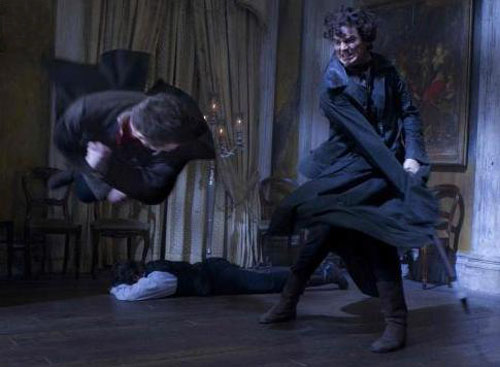 Here's another photo from Timur Bekmambetov's upcoming Abraham Lincoln: Vampire Hunter project.
We could call this an action image, but if you ask me – I don't care if it's a supernatural horror thriller, or whatever – I will just wait for the official trailer to make some judgement.
Based on the popular novel by Seth Grahame-Smith, Abraham Lincoln: Vampire Hunter explores the secret life of our greatest President and the untold story that shaped our nation.
Visionary filmmakers Tim Burton and Timur Bekmambetov (director of Wanted) bring a fresh and visceral voice to the blood-thirsty lore of the vampire, imagining Lincoln as history's greatest hunter of the undead.
Movie stars Benjamin Walker, Dominic Cooper, Anthony Mackie, Mary Elizabeth Winstead, Jimmi Simpson, Robin McLeavy, Alan Tudyk and Rufus Sewell.
Abraham Lincoln: Vampire Hunter opens on June 22nd, 2012.