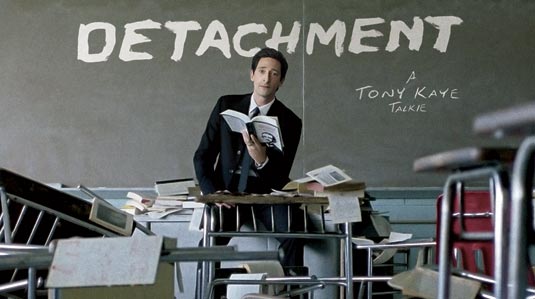 Here's a new poster and clip from the upcoming Detachment movie, which stars Adrien Brody as a teacher who tries to navigate a particularly difficult school while also dealing with a dying father and a runaway teen prostitute he takes in.
It definitely looks great, but I'm sure you already know all about that "an incredibly powerful and artistic drama" part, so let's get straight to the point.
Tony Kaye stands behind the project which centers on Henry Barthes, a substitute teacher who conveniently avoids any emotional connections by never staying anywhere long enough to form a bond with either his students or colleagues.
So, Henry finds himself at a public school where an apathetic student body has created a frustrated, burned-out administration. Inadvertently becoming a role model to his students, while also bonding with a runaway teen who is just as lost as he is, he finds that he's not alone in a life and death struggle to find beauty in a seemingly vicious and loveless world.
The rest of the cast includes Marcia Gay Harden, Christina Hendricks, Betty Kaye, Sami Gayle, Bryan Cranston, William Petersen, Tim Blake Nelson, Lucy Liu, Blythe Danner and James Caan.
Detachment comes on March 16th, 2012.