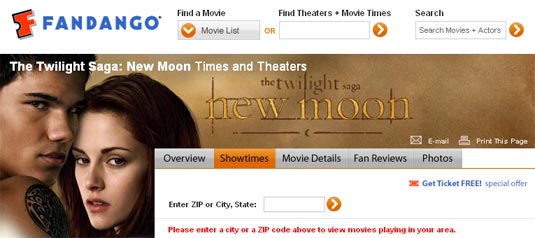 With four more days before its November 20 release date, "New Moon" has already leaped over previous record-holders to become the top-selling pre-release title in Fandango's ten-year history. The new record for Fandango's fastest-selling film was set on Saturday night, November 14, shortly after 8:00 p.m.
The Top 5 Advance Ticket-Sellers on Fandango (as of November 15, 2009) are now as follows:
New Moon (2009)
Star Wars: Episode III – Revenge of the Sith (2005)
Harry Potter and the Half-Blood Prince (2009)
The Dark Knight (2008)
Twilight (2008)
The latest chapter of The Twilight Saga is currently wolfing down 86% of weekly ticket sales on Fandango, the nation's leading movie ticketing destination.
Thousands of Thursday night midnight showtimes for New Moon are already sold out across the country, from Albany, Georgia to Yuba City, California. Yet New Moon tickets continue to be available. To meet the fan demand, the nation's top theater owners are regularly posting brand new showtimes on additional screens.
"For many fans, it's clearly the year's most anticipated film event," says Fandango Chief Operating Officer Rick Butler. "Ever since tickets went on sale on August 31, it's been among our top five weekly ticket-sellers, as New Moon has a strong pull on audiences. We're seeing a higher-than-usual number of tickets per transaction for this film, suggesting that moviegoers will show up en masse at theaters this weekend with their friends and family."
Check out our New Moon Photo Gallery [370+ photos]