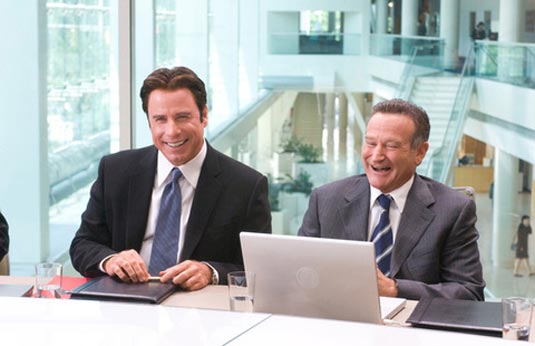 Walt Disney Pictures has debuted the trailer for the John Travolta and Robin Williams film Old Dogs today on MSN.
Two best friends – one unlucky-in-love divorcee (Williams) and the other a fun-loving bachelor (Travolta) – have their lives turned upside down when they're unexpectedly charged with the care of six-year-old twins while on the verge of the biggest business deal of their lives. The not-so kidsavvy bachelors stumble in their efforts to take care of the twins, leading to one debacle after another, and perhaps to a new-found understanding of what's really important in life.
Directed by Walt Becker (Van Wilder, Wild Hogs) the film also stars Seth Green, Kelly Preston, Matt Dillon, Lori Loughlin, Rita Wilson, Dax Shepard, Justin Long and the late Bernie Mac.
Disney will be debuting Old Dogs in theaters Thanksgiving week starting on November 25th.