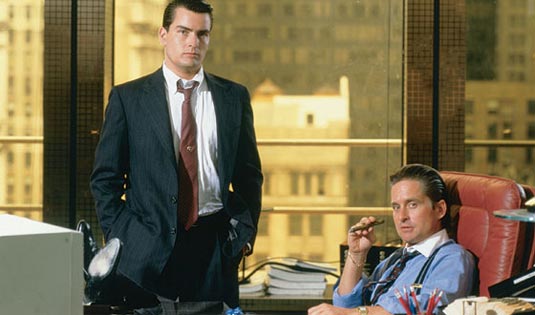 It has been almost two years since 20th Century Fox announced a sequel to Oliver Stone's 1987 drama "Wall Street."
According to the Hollywood Reporter, Oliver Stone is set to direct "Wall Street 2". Michael Douglas has said that he is in "serious discussions" to reprise his role as Gordon Gekko, for which he won an Oscar in 1988. On top of all this, Shia LaBeouf is in talks for the sequel according to Variety.
As previously reported, Allan Loeb, writer of 21, wrote the most recent screenplay, which will follow Gordon Gekko's character, who has just been released from prison after serving a 14-year sentence in jail for insider trading and securities fraud. Gekko embarks on the financial lecture circuit, after releasing a book called "Moral Hazzard," and meets a young Wall Street hot shot, Jacob L. Moore. Moore's mentor has just committed suicide, after his former company, KZI was destroyed. A trader named Brenton Woods is behind the downfall of the company, and Moore seeks out the help of Gekko to get revenge. But in return for Gekko's help, Moore must reunite Gekko with his estranged daughter, who he is engaged to.
Oliver Stone most recently directed the biopic "W." and before that helmed the Sept. 11 disaster drama "World Trade Center."
Wall Street (1987) trailer:
[youtube]http://www.youtube.com/watch?v=xuQAfgAOMKQ[/youtube]