Teaser Trailer For PARADE'S END
For those looking to get Benedict Cumberbatch ahead of the pack you can watch him this February in the HBO-BBC miniseries Parade's End and now the network has released a teaser trailer for the five-part WWI-era miniseries.
Cumberbatch has plenty on his plate for this year or so and now he continues 'amazing run' with Parade's End starring as Christopher Tietjens, a man caught in a love triangle with two women played by Rebecca Hall and Adalaide Clemens.
Written by Tom Stoppard (Shakespeare in Love, Anna Karenina), the adaptation of Madox Ford's novel series will be directed by Susanna White.
American audiences will get to experience the upper-class Edwardian-era Britain across three consecutive nights starting on Tuesday, February 26th, 2013.
Hit the jump to check out the video below beginning with Cumberbatch's character announcing that he's joining the army.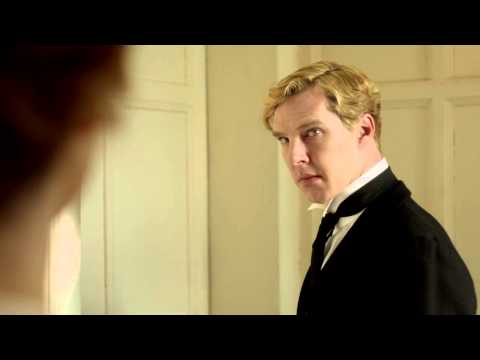 From the reliable comforts of Edwardian England to the chaos and destruction of the First World War, the early 20th century was a defining era in history, a time of unprecedented change, when old certainties were being torn down. The long golden afternoons of the pre-war years would be shattered by the most destructive war the world had ever known, and countless lives would be changed forever.

Set against this backdrop of impending catastrophe is the story of English aristocrat Christopher Tietjens, trapped in a marriage to an unfaithful wife, and caught between his commitment to the values of Toryism and his unspoken love for a fearless young suffragette.

Spanning the glittering, shallow world of London high society, the trench-scarred battlefields of France, and the breathtaking English countryside, the sweeping five-part HBO Miniseries presentation PARADE'S END debuts TUESDAY, FEB. 26 (9:00-11:05 p.m. ET/PT), WEDNESDAY, FEB. 27 (9:00-11:05 p.m.) and THURSDAY, FEB. 28 (9:00-10:00 p.m.), exclusively on HBO. Adapted from Ford Madox Ford's groundbreaking novels by Sir Tom Stoppard (Oscar®-winner for "Shakespeare in Love"), the drama was directed by Susanna White (HBO's Emmy®-winning "Generation Kill").

Benedict Cumberbatch ("Sherlock," "War Horse"), Rebecca Hall ("Vicky Cristina Barcelona," "The Town") and Adelaide Clemens ("The Great Gatsby") star in PARADE'S END, a Mammoth Screen production for the BBC in association with HBO Miniseries and Trademark Films and BBC Worldwide and Lookout Point; co-produced with BNP Paribas Fortis Film Fund and Anchorage Entertainment; filmed with the support of the Belgian federal government's Tax Shelter Scheme. The executive producers are Michele Buck and Damien Timmer for Mammoth Screen, Ben Donald for BBC Worldwide, Simon Vaughan for Lookout Point TV, Judith Louis for ARTE France and Tom Stoppard. David Parfitt and Selwyn Roberts produce.

PARADE'S END also stars Roger Allam ("The Queen"), Anne-Marie Duff ("The Virgin Queen"), Rupert Everett ("The Importance of Being Earnest"), Stephen Graham (HBO's "Boardwalk Empire"), Janet McTeer ("Albert Nobbs") and Miranda Richardson ("The Lost Prince").

Married to Sylvia (Rebecca Hall), a callous socialite who has given birth to a child that may not be his, English aristocrat Christopher Tietjens (Benedict Cumberbatch) becomes entranced by Valentine Wannop (Adelaide Clemens), a fearless young woman who unexpectedly turns his world upside down. As warbreaks out across Europe, Christopher, compelled by an outmoded code of conduct, feels obligated to remain loyal to his wife as he leaves a heartbroken Valentine to fight in France.

Christopher struggles to adapt to his new life as an army officer. When he returns to England briefly, suffering from shell shock, he is alarmed to discover himself the target of vicious rumors. Rejected by his father and brother, alienated from Sylvia, with only Valentine to support him, he attempts to hold on to sanity and meaning as the old world order collapses amidst tremendous upheaval.

Through Christopher's experiences, PARADE'S END captures the devastation of war and the end of Edwardian ideals, and bridges the gap between feudal England and the dawn of modernism.